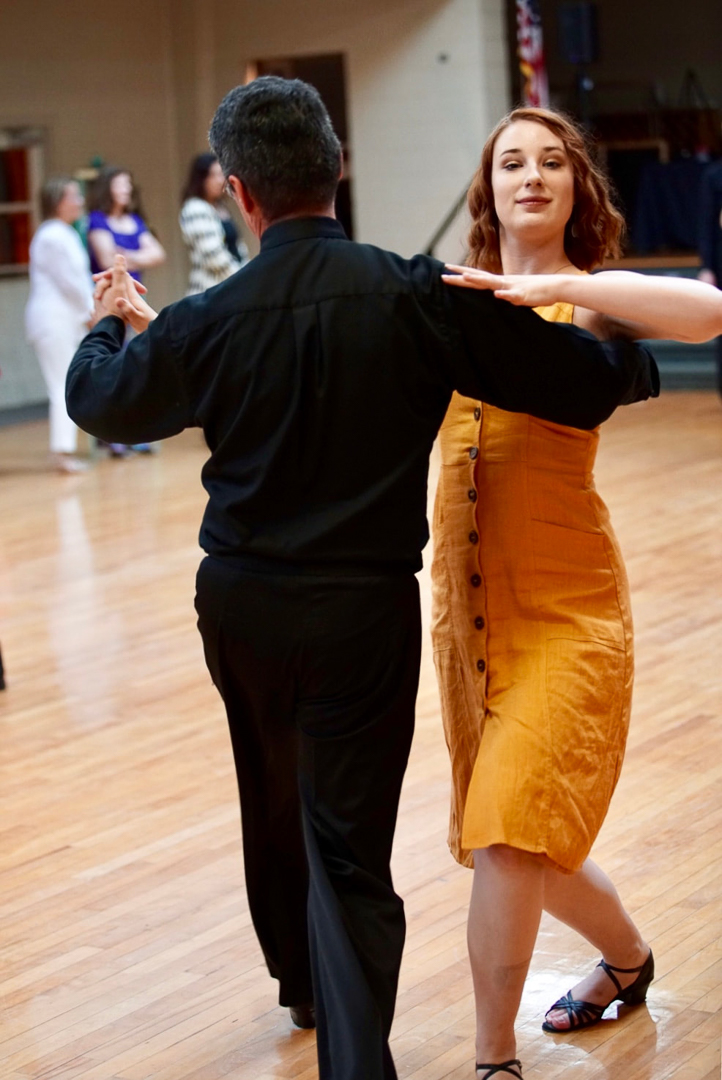 Jackson Ballroom Dance Club is a group of individuals from diverse backgrounds who enjoy the challenge and benefits of ballroom dance. We welcome everyone interested in social dance and promote multiple opportunities for learning and practicing. We hold weekly group classes on Tuesday nights. We also host practice dances and galas in various locations in Jackson. JBDC offers West Tennessee residents a great opportunity for learning a new skill, practicing dance, and making friends. 
JBDC is dedicated to the enjoyment, education, participation, and promotion of social ballroom dancing in West Tennessee.
JBDC welcomes everyone from beginners to experienced dancers who are looking for a fun and supportive environment in which to enjoy the physical, mental, and personal benefits that ballroom dancing has to offer. Come join the fun!
Our programs are designed for every level of dance. We teach "social ballroom dancing." Typically this means we are not teaching competition style dancing. Not that we don't challenge you to dance or look your best, but we want you to be comfortable with your dancing. What level of dance you wish to reach is entirely up to you. Come join us and reach for the stars!
Basic Ballroom – Beginner Social Dance Class
If you have never danced before, you need to build a strong foundation of basic moves for every dance. This is the class to start building that foundation.
Advanced Ballroom
Dance Class
You've built your foundation. Congratulations! Now it's time to move forward with more advanced moves.
What Do I Wear?
With regarding to clothing, you should be comfortable. Your clothing should allow flexibility and allow you to extend your arms and legs smoothly through a variety of dance motions.
JBDC also has resources, within our website, where you can purchase shoes (for practicing or dress shoes/heels) or apparel for dancing. Ask us for recommendations, we are more than happy to assist!
What Is a Practice Dance Like?
A partner is not necessary to enjoy dancing, but if you have one – this is fine! The ballroom dance atmosphere is "social" – we cannot express this enough! Dancers do their best to dance with a variety of people. This gives us experience. Men practice their leading and woman practice their following. All levels interact with each other. Do not feel intimidated! Our main goal is for you to learn, enjoy, and have fun!
Where Are the Classes Held?
PLEASE NOTE: We are excited to announce that JBDC is in the process of seeking a new venue for all of our class lessons and practice dances. As soon as we establish this location we will post it here on our website. So, please stay in touch!
What are the benefits of ballroom dance?
WHY WE DANCE
Dancing offers such a variety of benefits:
Great Way to Socialize
Excellent Exercise
Enjoyment for Couples and Singles
Builds Confidence
Builds Discipline
Many Health Benefits
Provides Positive Attitude
It's So Much Fun
Mind Challenging • And much, much, more . . .
More Benefits of Dance
Dancing has been around since the earliest days of mankind and paintings of dancers have been discovered and dated to over 9000 years ago! Dancing in its earliest form was used to tell stories and express feelings. Not much has changed over the past millennium. Artists and musicians over the centuries have studied dancers and tried to capture the energy of them in sculpture, painting, and music.
What is it about dance that has captured the imaginations and emotions of thousands of generations? We can look to science for studies and papers that prove the health benefits of dance such as reducing the risk of diabetes, cardiovascular disease, and even dementia. Since it is an aerobic exercise it provides all the same benefits as taking a walk or cycling but is much more enjoyable!
Even though the physical benefits of dance are tremendous, the mental benefits can be even greater. Dancing is used in many therapeutic settings to improve mood, self-confidence, interpersonal relationships, and emotional well-being.
More than the studies and testimonials, feelings are what make us overjoyed when we dance like no one is watching. Those feelings are multiplied when done with a group of supportive individuals focused on learning and sharing the joy of dance. People can flourish emotionally, physically, and mentally forming friendships and connections over social lines and ability levels.
Class Cancellations
 If the fitness center is closed or closes early for any reason, such as holidays or inclement weather, we will NOT be having dance class that night. Check our website for updates or simply call Jackson Sport & Fitness to find out if they are open that night. Also, from time to time other emergencies do occur, and we do our best to inform you by text messaging
Dress Code for Events
1. Dance Parties
These dances are casual in attire. We do often have themes for the dances, so you may wish to dress according to the theme.
2. Dance Galas
These are more dressy affairs and are more elegant. Enjoy 'dressing up' for these dances!
3. Workshops
Workshops are casual in attire. Wear something comfortable. We typically do go somewhere after the workshop to practice what we have learned, but it is casual.